It appears someone may have sent faked trail cam photos to Sasquatch Chronicles. The photos were posted to that site's blog. Wes Germer wrote this comment:
"I came across some photos from a law enforcement officer. The camera was set in the trees in order to prevent people from entering a certain location and that's all of the info I can give you. The officer sent me the photo's asking me if I knew what it was because they are baffled as to what it is. This is an area that does not have bears and the image does not appear to be a man. Coincidentally it appears to be the same thing Bob Garrett and crew captured in Texas with the drone."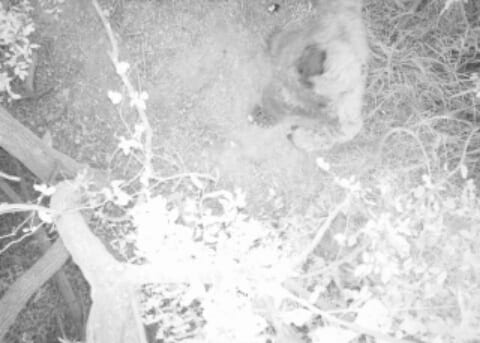 https://www.sasquatc...mages-captured/
However, various people on the Internet quickly recognized that as one of the more common bigfoot costumes. Notice the hair line on the costume and where the fur suddenly stops on the fingers and feet. It is just like the image. Notice the left hand hair and finger pattern on the photo just above compared to the left hand on the costume below.
Below is an enlarged image of a foot on the trail cam photo compared to an image of the costume foot. There is little doubt they are one and the same. The dark gaps, toe pattern, and hair pattern just before the toes are a clear match.
Did someone prank law enforcement by wearing a fake suit and walking under one of their trail cams, or did someone who was impersonating a law enforcement officer send these photos to Sasquatch Chronicles asking them to help identify what this could be?
It has a marked receding hair line not typical of sasquatches.