Ray Crowe
Born: December 30, 1937
Died: September 29, 2015
Famous quote:
"The more you learn about these creatures the more you realize you don't know…."
-- Ray Crowe
Ray Crowe is a pioneer in sasquatch research and a consummate organizer of people, events, and research. Before the days when squatchers could go on their computers and gather on social media he founded the Western Bigfoot Society ( later named the International Bigfoot Society) and he was Editor of the newsletter, The Track Record, one of the very first bigfoot publications. The Track Record was the social media squatchers used to gather and learn from. The newsletter was filled with valuable information about Bigfoot habitat, sightings, behavior, and forensic data. His pioneering work introduced many prominent researchers to Bigfooting. He also conducted a great deal of field research himself and amassed a large archive of sasquatch related artifacts, data, and witness reports. Mr. Crowe is also a senior member and advisor of Bigfootology.
Unfortunately, as a result of poor health due to diabetes, including the removal of limbs and the loss of mobility, Ray Crowe has had to give up much in the way of research and has sold his massive files and archives to the North America Bigfoot Search (NABS) which has purchased all of Ray Crowe's Bigfoot library and research, including the acquisition of all past copies of The Track Record, all photographs, personal letters, and articles. David Paulides is the executive director of the NABS.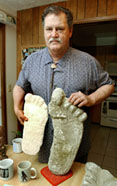 Researcher Ray Crowe
http://cryptomundo.c...ws/crowe-saved/
http://www.nabigfoot...rackRecord.html